Hey everyone. We are here today to tell you all about this fabulous design that combines a designer hand bag cake …and wait for it…cupcakes! Genius.
Without further ado, here it is, a cake design by Top Tier in Glasgow, Scotland UK: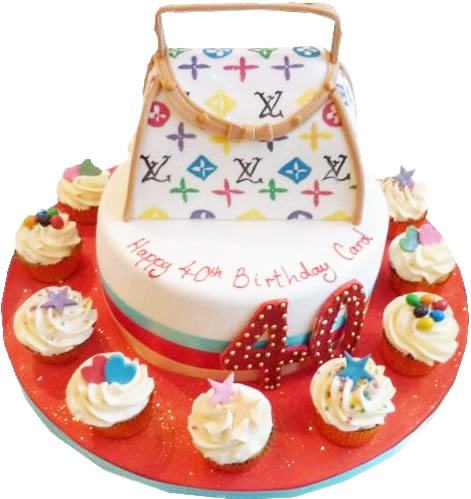 Now if this doesnt appeal to all you LV girls our there…we doubt anything will. Okay, so on with the review.
First off, the overall design of the cake is off the cuff, its colorful and truly desirable. We like the way the cake designers have added all the little details of the LV print and the brown fondant to distinguish the leather. The red coated cake board is a nice touch and ties in perfectly with the use of ribbons and the Sugar number 40 with dragee decoration. All in all its a work of art.
However…
As much as this birthday cake looks fantastic, the most important thing about a cake is how it tastes. Taste is of overall importance. Read on for our verdict on the tastiness.
TASTE VERDICT:
Well ladies and gentlemen, having weighed up all the verious component that make a great cake, including texture, moistness, type of filling etc…we are thrilled to say this cake did not disappoint. It tastes amazing!
We found that the buttercream litterly melts in your mouth and the sponge is so soft and fluffy its hard to comprehend how good it is. The portions are ample so there is plenty to go around which means the tasting pleasure goes on and on.
Believe it on not, the cake itself was sooo good we almost forgot about the cupcakes…of all things! Without hesitation we jumped right in and boom…we had mouth explosions of epic propportions. The soft cupcake sponge is delicious and the topping to die for. Lets not kid ourselves, there is nothing fat free here, so we enjoyed it while the going was good and shovelled as much into our mouths as we could humanly achieve. So worth it.
Overall, this cake and cupcake design scores 9.9/10. Everything just seems to work right, from the look to the taste. Not a bad way to celebrate..a cake like this will do any celebration a credit.
Designer cakes and cupcakes are the thing right now and we couldnt recommend Top Tier any more for our readers based in the UK. Obviously peoples tastes and styles are all different, but the beauty of a designer cake maker is that they mostly make custom orders, so whatever you require im sure their designers will be able to assist you.
Find Top Tier cakes on their website or search online. We stumbled upon them whilst looking typing cakes Glasgow in a local area. We always recommend searching for goods in your local area to help business that deserve it. toptiercakes.co.uk
So for more Birthday cakes or even wedding cakes…heck any celebration for that mater, you know where to look now. Christening cakes, Engagements, corporate cupcakes, baby shower cupcakes…they can all be found there.
Catch us next time around when we will be reviewing even more tasty creations that will make your blood pressure rise. Literally!
Stay tuned.