Todays is all about this wonderful online cake store we have found. Their name is Cake in a Box and they are located, again in Glasgow UK. This place is a a treasure trove for sugar fiends!
A first glimpse at the site tells you everything you need to know about what events they cater for. Birthday cakes, wedding cakes, holy communion cakes, anniversary cakes, cupcakes, corporate events and christening cakes, they have each occasion covered pretty well. After viewing what they offer you get to see what talent they have in the actual custom made designs their cake makers can provide. For a cake shop they are highly gifted professionals, thats is easy to see.

Here is an example…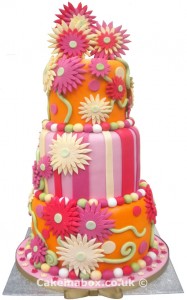 Look at the details in this work of art! I mean, come on! Hand made sugar flowers eveywhere in a colorful explosion. Wonderful.
Its easy to see why these guys are sought after to create celebrations cakes. The detail and effort taken to develop such ideas from cake is impressive.
Having contact the guys at Cake in a Box, they explained that each cake is assigned a schedule when being made. This process starts with the cake itself when it baked. Texture of cake, we are told, is important depending on the overall style of the cake. If a cake can not support the weigh of the sugar decorations, that is a receipe for disaster. Literally.
Once the cake is perfected, the cake is creamed and jammed if necessary, then covered in fondant or sugarpaste, either colored or normally white. Then the fun nows begins.
The team, who are mostly females, are meticulous when comes to creating the various decorations for cakes. Flowers, and feminine designs, are their preferred specialitry, with wedding cakes top of the list.
Everything has made, from the small baby figurines for Christening and communion cakes to gardens tools used on designer birthday cakes. The Cake in a Box shop in filled with all kinds of display cake designs and cupcakes.
From adult cakes to childrens cake for boys and girls, they have a selection on view that will take forever to view and enjoy.
Feel like a visit but cant? No worry, www.cakeinabox.co.uk is where you need to go. The cakes on display are vast with enough for everyone.
If you are thinking of ordering, make sure to give enough lead time, the site states minimum order time is approxiamtely 7 days…so beware .
For more fun examples really do look at the site, its definitely worth it.